As a leading humanitarian organization in Quebec dedicated to providing support to Syrian refugees, the Syrian Kids Foundation is launching a new initiative to support Quebec residents and concerned donors sponsor Syrian refugees to come to Canada. Each year, around 450 refugees are privately resettled in the province of Quebec in Canada. As a registered non-profit organization in Quebec and Canada, the Syrian Kids Foundation aims to sponsor a number of its graduated students from Al Salam School, and to facilitate the settlement of Syrian refugees in Canada by providing support, including interpretation, counselling and employment preparation and other assistance.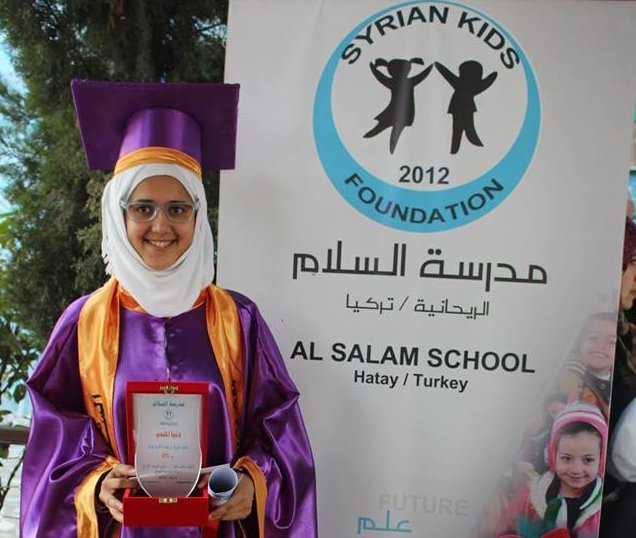 Sponsor an Al Salam School graduate to pursue post-secondary education in Quebec, Canada
Through its flagship project, the Al Salam School for Syrian Refugees in Reyhanli, Turkey, the Syrian Kids Foundation is reaching out to generous donors and to Quebec residents for a new, exciting initiative to help its refugee students realize their educational goals.
In the 2014/2015 academic year, the Al-Salam school proudly graduated 80 grade 12 students, who received their Turkish Graduation Certificates, and are eligible for university entrance. These students represent the school's first graduating class after the expansion in 2014 to include senior secondary grades 10-12. SKF aims to give its students the best possible education, and are launching a call for donations to sponsor and resettle some of its talented graduated students to Canada, to allow them to pursue higher education in Quebec.
The more dedicated contributions for sponsorship that the Syrian Kids Foundation receives from its supporters, the more Syrian refugees it will be able to resettle to Quebec and help attend post-secondary education.
Private sponsorship of our graduates or of Syrian refugees to Quebec, can be achieved in the following ways:
Sponsorship by SKF (A Registered Canadian Charity)
SKF is committed to privately sponsor some of its Al Salam School graduates students to pursue their university studies in Canada. To do this, we require donations from our generous supporters for refugee sponsorship. The amount required for SKF to privately sponsor one Syrian refugee is $12,062 (CAD). All refugees sponsored by SKF will be at least 18 years of age unless they are sponsored with their parents.
SKF will also consider resettling family members of Syrian-Canadians who were forced into displacement outside of Syria because of the Syrian crisis. They need to be refugees or in a refugee-like situation and have no other durable solutions.
A refugee or a person living in a refugee like situation has to adhere to either:
Convention Refugee Abroad Class:
Living outside their home country; and cannot return there due to a well-founded fear of persecution based on race, religion, nationality, membership in a particular social group or political opinion; or,
Living outside their home country and have been, and continue to be, seriously and personally affected by a civil war or armed conflict, or have suffered massive violations of human rights.
Processing delays for sponsorship applications can be found in the following publication:
http://www.cic.gc.ca/english/information/times/perm/ref-private.asp
The capacity of the Syrian Kids Foundation to sponsor Al Salam School graduates and other Syrian refugees to Canada will depend on your support and contributions. If you would like to support this cause please use the following link to donate:
Forming a group of 2 to 5 residents of Quebec for refugee sponsorship:
To be eligible to form a group of 2 to 5 (minimum 2 up to a maximum of 5) for sponsorship, each member of the group needs to be a permanent resident or a Canadian citizen residing in Quebec. Each group member needs to prove that he, or she, is able to meet the financial needs of his own family and the needs of the sponsored refugee for at least one year. Furthermore, each member needs to dispose of at least 20% of the financial requirement for sponsorship.
For the financial requirements for each member in the group, please refer to tables 1 and 2 of the following guide:
http://www.immigration-quebec.gouv.qc.ca/en/immigrate-settle/humanitarian-immigration/collective-sponsorship/5-steps/learning-sponsorships/scales.html#group
If this is an option that interests you, please contact us. The Syrian Kids Foundation can discuss candidates from our list of graduate students qualified to pursue their education in Canada and is also actively working with Canadian Private Sponsors to match them with Syrian Canadians who are unable to resettle their loved ones who were displaced because of the Syrian war.
Co-Sponsorship Between SKF and a Quebec Resident:
Using this option, a Syrian refugee can be sponsored by forming a group composed of a Quebec resident and a charity – in this case SKF. For the financial requirements for this option, please refer to table 3 of the following guide:
http://www.immigration-quebec.gouv.qc.ca/en/immigrate-settle/humanitarian-immigration/collective-sponsorship/5-steps/learning-sponsorships/scales.html#group
For more details on the three private sponsorship options in Quebec-Canada, please refer to the following guide:
https://www.immigration-quebec.gouv.qc.ca/publications/fr/parrainage-colllectif/Guide-parrain.pdf
For more information, please contact us.
Integration:
In addition to its sponsorship program, the Syrian Kids Foundation is also supporting the resettlement of refugees to Canada in the following ways:
Helping newly resettled refugees with translation, filling Government applications, housing and finding employment opportunities.
Assisting newly resettled refugees in applying and integrating Canadian Universities including preparing them for the IELTS/TOEFL exams
Assisting newly resettled refugees to Quebec in finding appropriate French courses (classe de Francisation).
Please contact us for more information or to support this important work.