Testimonials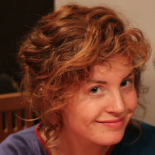 Alice Bernard
- Student and Film Maker
The minute we arrived we received a warm welcome from the whole school community. The courtyard was filled with kids playing and we already sweated under the heat of the warm summer day. Diego and I unpacked and smiled, this was where we would pass the next month and a half.
The project to volunteer in Reyhanli came unexpectedly. A friend introduced us to a Syrian activist in Montreal who suggested the idea after hearing about our goal to go in the region and do something to help the refugee crisis. A month later, we were at the Al Salam school for Syrian refugees, on the Turkish-Syrian border.
In our first weeks there, our role revolved around bringing new creative ideas into the school activities. The point was to make the kids forget about the war and express themselves through arts and crafts projects and sport activities. Diego and I organized different environmental and political projects: we turned recycled bottles into painted crayon bins, created a big garden, planted different vegetables with the kids and even helped to organise a student election campaign with the leadership of teacher Abdullghafar, a former U.N worker.
I felt at home at Al Salam school. Everyday started with the voices of the kids singing the morning school song and every afternoon went on with sips of tea, outdoor games under the sun and irrigation of the garden and the olive trees. Although the language barrier made it hard to communicate, we rarely felt alone as Syrians invited us everywhere. We made many friends there, from teachers inviting us for delicious meals with their families to the bakery guys and sales women on the streets always up for a chat. The atmosphere was one of proximity and of solidarity.
As the weeks went by, Diego and I became more aware of the crisis at the Syrian border. We felt the need to go beyond volunteering and to document the refugee situation in Reyhanli. With the help of the school director Mrs. Hazar, we interviewed Syrian teachers and friends and asked them about their own personal stories and perspectives, hoping to bring light to their fragile living conditions. These interviews were later published in Diego's book Seven Syrians and in the short film Waiting At the Border: Voices of Syrian Refugees in Turkey.
Overall, the experience made us realize how strong the human cohesion can become in such crisis contexts. It was beautiful to acknowledge the strong solidarity nets constructed between all Syrians and specifically the teacher's devotion to the school and the kids.
We left Reyhanli with a heart squeeze and a promise to be back. In my opinion, Al Salam School is the success of genuine human solidarity and a beautiful example of how people can come together in contexts of chaos. To this date, Diego and I maintain contact with teachers and friends and hope that the school will flourish with the help of generous donors.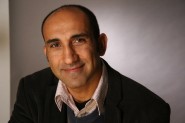 Chadi Alhelou
- Actor and Director based in Canada
I was tremendously happy to volunteer at Al Salam School based in Turkey. The first thing that struck me is how happy the kids were at school, living now in a joyful environment, away from the war and violence that they fled.
My participation included teaching, entertaining the students, and offering them psychological support when I could.
I felt truly blessed to be part of such an important project, which made me hopeful about the future of Syria.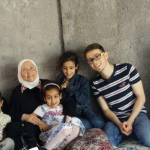 Omar Shawaf
- McMaster University Student & Research Associate
Omar Shawaf – McMaster University Student & Research Associate

My journey to volunteer at Al Salam School was spontaneous, yet in many ways it felt effortless. One day I was working in the lab and the next I was boarding a flight to Turkey. Arriving in Reyhanli, I could see Syria all around me. The soil, the trees, the scent the wind carried transported me… I had to remind myself constantly that albeit the vast similarities, I was not in Syria. I felt safe.  

During my time at Al Salam School, I had the opportunity to immerse myself in as many projects as there are hours in the day. With my keen interest in mental health and medicine, I shadowed the school's resident Psychiatrist, Dr. Kurdi, daily. I also worked closely with two grade two students, Waseem and Marwa, the latter of whom I still keep in touch with today. An interesting project that I was able to bring to Reyhanli was connecting a Canadian classroom with a classroom from Al Salam School. This project was unique in that we explored Canadian life, and the Canadian classroom explored Turkish life, with the objective of familiarizing our students to global communities. This project was taken one step further after our Canadian peers wrote a script that we filmed at Al Salam School, followed by a class-wide Skype session.
As an individual that treasures his eight hours of sleep a night, I found myself constantly and naturally waking up as early as 6 AM to the energizing sounds of children excited to start their day at school. It was these mornings spent at Al Salam School that made me realize that happiness can take the form of a sound. Nevertheless, the first thing that struck me about this school was the sense of community it fostered. I struggle to refer to this haven in Reyhanli as a school because it is a community. As you walk in, you walk into a small town with a dental and psychiatric clinic, a garden and a newly erected barn that houses the school sheep, rabbits and ducks.

Throughout my stay at Al Salam School, I developed a close bond with Principal Mahayni, as I always started and ended my days in her company. Everyday I was awestruck at the level of energy Principal Mahayni had. I often accompanied her on the two-hour treks to neighbouring cities to secure materials for the school. She is constantly innovating new ways to engage her students, whether it's a soccer membership at the local recreation centre or a program for the culinary arts. Her love and utmost dedication to her students is the reason why she has become my role model.
SKF remembers the Syrian children and gives them a voice. As Sydney J. Harris rightfully stated, "The whole purpose of education is to turn mirrors into windows." Al Salam School has opened the windows of opportunity for these children so that they can begin to explore and dream of a world outside of an uncomfortably familiar war. It is because of the difference I saw SKF make in these children's lives that I was proud to be an organizer in the benefit concert, Talent for Syria, which raised $100,000 towards the betterment of Al Salam School. Today, I continue to represent SKF at various fundraising events. Additionally, I was inspired to become an advocate for equal educational opportunities for all children and this led me to start a Skype tutoring service for Al Salam students at my university. I hope to return to Al Salam School soon.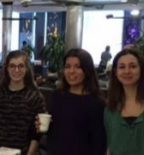 Rasha El Mouatassim Bih
- McGill Student
I have been working with SKF since December 2014 when I first heard about the foundation through a friend. I was so touched by their mission that I decided I had to contribute in some way. I write a bimonthly SKF newsletter to all our supporters to inform them of updates and exciting news about the Al Salam School, our students, as well as the SKF team here in Montreal. A part of this job includes writing about the hardships that the Al Salam students face, and how they have overcome them through their time at the Al Salam School, as a way to allow SKF donors and supporters to get to know these beautiful and smart children and the work we are trying to achieve. Working with SKF is something I've never experienced before. It is such an open and diverse environment where we are focused on listening to one another and bringing in our own expertise to create remarkable progress. My experience here, with the people I have met and the stories I have heard, is something that I will remember forever and carry with me always.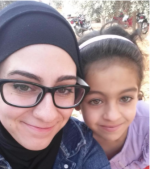 My visit to Al Salam School in Reyhanli, Turkey was a special one. I went to the school to volunteer and help the Syrian refugee children with what I had to offer. We had an engineering competition for the kids. They were put in groups of 4 and were challenged to build the strongest bridge based on engineering designs. The kids astonished me with their energy and creativity. I also had the chance to teach English to the students and I was able to see improvements. They were extremely quick learners. Being with the kids for 3 weeks, I got to know them individually. They each had their own special talent and had many ambitions. Also, with their great personalities came some very saddening stories. Each one of them had been through so many hardships and just needed the opportunity to learn and grow. I also had the opportunity of meeting the high school students. They were very social and fun to communicate with. They had dreams of a better future for themselves. At the end of my stay, I realized that I had gotten so much more from the students then I was able to offer them. I hope that one day I will be able to meet with them again.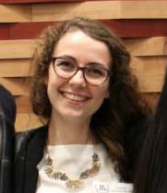 Elsa Bendine
- Middle East Studies and International Development Studies Student (McGill)
For many years, I have been passionate about the Middle East. No other region as this one, represents the amazing richness of our world, by its extraordinary cultural diversity, but also its incredible complexity.

While the world faces such a tremendous humanitarian crisis, I am deeply convinced that as a woman who has had the amazing chance to be supported by her family in her studies, it is my duty to recognize that my chance is unfortunately not representative of the condition of too many children, and too many girls, especially among the refugee populations in which child marriage is a pressing issue.

It is our role to take a stance by doing everything we can not to have a lost generation of Syrian refugees, to fight to give them the chance they deserve to allow them to be hopeful again, to be joyful again, to be children again.
In the Syrian Kids Foundation, I am tutoring a Syrian refugee for her TOEFL exam, as she is sponsored by Concordia University to pursue her studies here. I am also helping with the weekly bake sale fundraisers and in general taking pictures of all our events.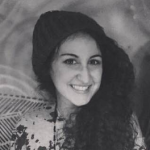 Chedine Tazi
- McGill Student - International Development Studies
"I joined the SKF team in the summer of 2015, after attending an eye-opening conference on the Syrian refugee crisis. Ever since I started working with the SKF volunteers, I have been amazed by the commitment and generosity of each of its members.
Now that I am part of the English tutoring program, I can say that Al Salam students are incredibly motivated, curious, resilient and full of life. My student, Dunia, puts so much effort into improving her English! At first, I found it challenging to teach through Skype, especially since English is not my first language. However, after a few weeks my group and I were able to develop our own lesson plans and teaching system, and it's working! It's really encouraging to see that our students are improving day after day. Through this unique program, I realized the importance of education in changing the future of Syrian refugee children. While the media are talking about a "lost generation", it is our duty to prove this wrong, by using education as the key tool for allowing Syrian children to rebuild their lives."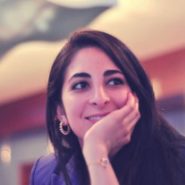 Ghalia Elkerdi
- SKF Tutor
I joined the SKF when I was a university student, around 2013. I have to correlate things with what was going on in Syria, because I was very upset with what was going on in my country. It was very difficult to accept these events. I went through a mentality switch from 2012 through 2014. I became a more rational person. I was always concerned with the latest emergency and making fundraising plans for it. Any emergency would catch my attention. But if you watch the news, every moment is an emergency, which is very sad, but it's true. You have to kind of look away and focus on what you have to do so you can actually contribute. We've seen a lot of opportunities emerge and a lot of organisations collapse and I have been a part of many of them. Some of our ideas were good but we often wouldn't have the time and resources to go through with them. We need something that focuses on the long term. Fundraising could be beneficial, in no way I am undermining their efforts, emergency level is very important. But it's someone else's specialty, not mine. My specialty, or really what would have kept me sane would have been to contribute in a positive way, but away from the noise and the emergency. I just wanted something tangible and long term and sustainable. The SKF was doing exactly this. They focused on how they could see the next five years and they looked terrible. I stopped believing in giants like the UN, I wanted something local, something I could put a face on.
When I think of SKF, I think of my friends, I think of the founders who are very dear friends I think of my involvement with the SKF. You have to find something that you'd willingly be able to do on the weekends. That's SKF for me. When they were thinking about school, they weren't thinking about merely recycling the Syrian education system, but rather they were thinking about ways to actually benefit these students in a constructive way. This aspect really touched me, because I feel like for the first time, I understand the notion of a borderless world or a borderless education. This isn't just an experiment you're doing, you are breaking boundaries by exposing children to amazing opportunities. I really don't want to sound spiteful when I say this but maybe you would have even experienced greater learning than you would with the Syrian educational system. Education exposes children to values that any Syrian would want to have in their country. Education teaches you about democracy, and teaching you about being a citizen through having elections and class representatives or little microcosms of democracy as in Al Salam School. Early marriages for girls and forced conscription for boys are societal ills that will only be solved through education. At the same time, it's important to focus on both emergency relief as well as long term solutions. There's always funding for bombs and war, but there is never funding for schools and education. This was all very attractive as a concept to me.
As for what motivated me to become a tutor, I've done it at university as both a job and a hobby. I firmly believe that knowledge should be shared rather than being kept to yourself.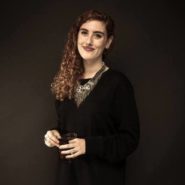 I graduated from McGill recently. I was studying Political Science and I was especially interested in the Middle East and I'm actually thinking of studying conflict resolution and refugee studies. I've been working at SKF for two years and each time it just sort of changes the way I see things. At first, I was all about the structural aspect of it but the more I talk to the students, the more I actually just want to work on the ground with the students and be able to communicate directly with them. The fact that we have Skype and this whole system worked out online, we can actually work on a person-to-person basis with the people and that is something I find very interesting. That's actually what I want to focus on for my thesis during my Masters, because how much a small thing you can do can really change someone's life is something that really changed me as a person.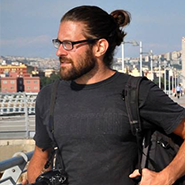 Diego Cupolo
- Journalist and Photographer
Syrian Kids Foundation and Al Salam School are providing the most critical form of humanitarian aid. Based in Reyhanli, Turkey, near the Syrian border, Al Salam School offers a free education and a secure environment for young Syrian refugees to learn, play and thrive in ways that seemed impossible when the conflict began.
After volunteering at the school in the summer of 2013, I can easily say Al Salam is providing one of the most needed services in dense refugee areas along Syria's border, where children make up more than half of the total refugee population. In Al Salam, students are given the ability to continue their educations and they are given a chance to remain within the Syrian community, even while they live in a foreign country.
With a large courtyard and garden area, Al Salam students are able to play, be free and simply be children again – a notion they may not have felt since the war began in 2011. By providing a space for education and laughter, Al Salam allows young Syrian refugees the rare opportunity to grow strong during a difficult period in their lives. In the end, Syria's children are not responsible for the conflict so why should they suffer its greatest consequences? The Syrian Kids Foundation shields Syria's youngest generation from the tragedy of war and I hope they continue their great work long after the war has ended to guide a new generation of Syrians towards a peaceful future.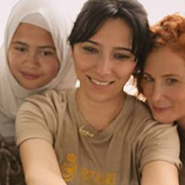 Lina Sergie Attar
- Co-Founder Karam Foundation
We were welcomed by the headmistress, Hazar Al Mahayni, with open arms. She helped us with logistics to make our trip as easy as possible. She also welcomed our over 35 progressive and innovative mentors who had traveled from all over the world to run arts, sports, literary arts, storytelling, and photography workshops in addition to a full dental mission. Mrs. Al Mahayni believes that exposing the Syrian students to new arts, skills, and points of view only enriches their education and helps them see beyond the despair and trauma of everyday life as refugees.
Our Zeitouna ideals and principles aligned with the Al Salam School's methodology. We were given the freedom to work with the children and treat them like normal kids in any other country: with freedom, respect, and care.
We also had a wonderful experience with the teachers and coaches. They were helpful and eager to learn from the mentors as well.
We look forward to returning to the Al Salam School this summer with a new team of mentors including a full psycho-social group to work with the students and teachers.
We admire Mrs. Al Mahayni and her team for their dedication to the over 1200 Syrian students at the Al Salam School. They work tirelessly to shift the reality for these kids and provide them with the best education possible and in turn, they have taken on the responsibility of raising the next generation of Syrians who are the future and hope of the country. There is no mission more noble. And for that, they have our respect and support.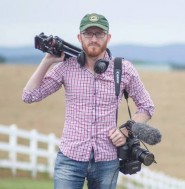 Zack Baddorf
- US based Journalist
Al Salaam School is such an amazing place. I had a wonderful time presenting a workshop on video shooting, production and editing to the students and faculty. They wanted to be able to tell stories of their lives as Syrians living in refuge in Turkey and I was honored to be able to help provide them some technical skills and guide them in their storytelling process. I could feel such joy and happiness in this school and look forward to seeing the school continue to do great things to help the future of Syria — its children.